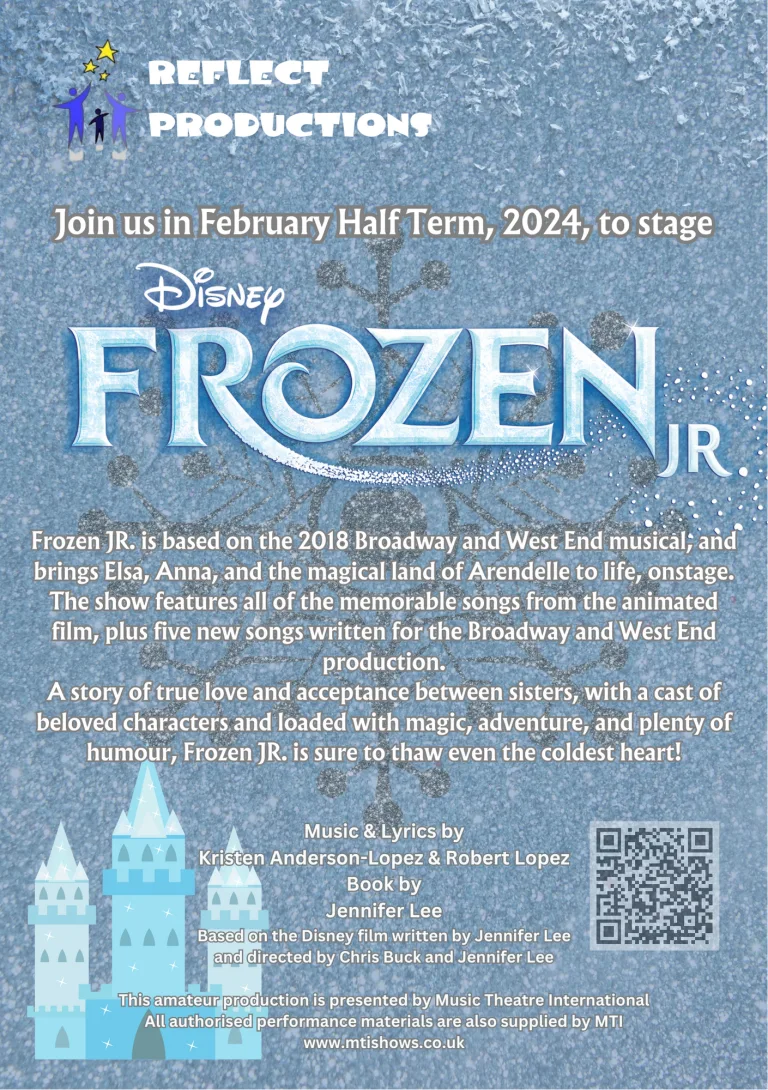 About Holiday Drama Programmes
We run holiday programmes twice a year; one in the February half term and during the Summer Holidays.
Stage a Play in a Week
In the February half term project students work together and with experienced directors/choreographers to stage a musical for friends and family. This programme caters for all age groups – younger students attend for half days, whilst older students attend for full days. The week culminates with all students coming together in performance at the end of the week.
 Summer Schools
Our Summer School projects run  for 3- 6 year olds and  7-17 year olds. Over the course of a fortnight, students work with professional directors to form an 'acting company', rehearsing a Play ready for Performance. Every student has a role to play and practitioners ensure that everyone's experience is a positive one that will stay with them for a lifetime. Material varies from year to year; sometimes we look at Shakespeare pieces, sometimes we work towards Musical Productions.  Whatever the material chosen, we always ensure that it is engaging and stimulating for the age groups taking part and, most importantly, that there's a lot of fun involved in the process!
Latest Course
Please find below information about our Holiday Programme running this February!  Please email admin@reflectproductions.co.uk or call 02039120086 for to book a place!
Book A Free Trial Class!
We have limited places on our programmes.
Secure your child's place today and start them on their journey to greater confidence, communication skills and creativity!
Enquire Now!
St Marys Church Hall, Merton Park, SW19 3HJ
Saturday
Performing Arts Programme: 10:15 - 1:15
Outstanding 10/10 🥰 My daughter has loved every minute. Kirsty and Ben are so kind. …. So impressed by the teaching, love and care of the children given by the staff. Definitely one happy family On the day of the performance - I was impressed by the high standard of acting, singing and dancing. As Principal of two nursery schools - I would highly recommend Reflect Productions. AJ will definitely be coming again, and again, Thank you Kirsty and Ben - I'm still crying tears of joy and so proud of my daughters achievements with you:))
Great local drama club which both of our children have attended for many years. The admin is organised, responsive and professional and the shows are amazing. We will look forward to showing their shows to them in the future!
An amazing school that creates a wonderful " drama and dance " family
Tracey Round-Turner
Parent
Fantastic inclusive classes that inspire creativity, confidence and everything else that the arts bring
Reflect Productions has been great at tapping into my son's artistic side and bringing out the best in him. He thoroughly enjoys all his drama classes and loves performing at the end of term shows. All the teachers have been friendly but professional, as well as very supportive.
We discovered Reflect Productions at the start of the first lockdown. To say that these lessons, as well as the martial arts sister school, we're the foundations of sanity and joy during those times is an understatement! In less than two years, peppered with lockdowns, isolation and reunions, we have seen the children deliver incredible performances, build beautiful friendship, learn excellent, core transferable skills and distinctions in two sets of LAMDA exams! No other school has managed a smidge of this during this time.